Custom Glass and Glazing
You can be assured you will receive all the help you need on your project from start to finish. We have the in-house capability to meet almost all of your commercial glass and glazing needs.
A Specialty Glazing Contractor
Proud to provide outstanding service and support to our customers
---
Let's Work Together
Do you have a glass and glazing project that you'd like to discuss or have questions about what Structural Glass Products offers? We'd love to talk to you!
Providing the Best Support and Service
Providing glass and glazing for many commercial applications for different industries. Supporting design, fabrication, installation, repair and remodeling.
Areas of Expertise
Design, estimating, fabrication, service and repair, product consultation, budget pricing, installation and remodeling
---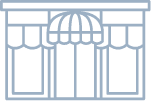 Aluminum Storefront
Aluminum Curtainwall
Aluminum Entrances
Aluminum Window Walls
Aluminum Doors
Architectural Glass Handrail
All Glass Doors
Glass Wall
Skylights
Our Portfolio
Our work includes, but is not limited to industrial, commercial, religious centers, retail, hospitality, healthcare, and schools
---